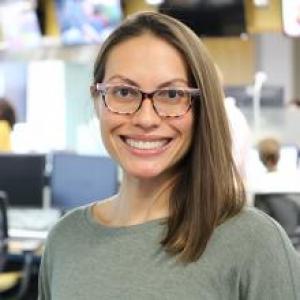 Kathy Ritchie
Kathy Ritchie began her public radio career in 2014, when she joined KJZZ. She regularly covers breaking news, as well as issues affecting people with disabilities and older Americans. Ritchie also contributes stories to WBUR's Here & Now.
Ritchie has more than 15 years of experience reporting and writing stories for national and regional publications, including Child, SMITH, Arizona Highways and asap, the AP's multimedia storytelling service, and she loves finding unique ways to tell stories that matter to KJZZ listeners. 
Ritchie's work was also featured in the book "The Moment: Wild, Poignant, Life-Changing Stories from 125 Writers and Artists Famous & Obscure." She also chronicled her experience as a caregiver in a blog called "My Demented Mom."
Before coming home to Arizona in 2009, Ritchie lived in New York City. She got her start at ABC News and FOX News after earning her master's degree from New York University. Ritchie earned her undergraduate degree from Arizona State University.